Targeted Room Disinfection
Safety Net offers a line of small sprayers, compatible with most commonly used, water-based chemicals, disinfectants, mold preventatives, sanitizers, and pesticides.
With the air-assisted electrostatic spray-gun, applying chemicals efficiently and effectively is easy.  The electrostatic charge ensures that even the hard to reach places are coated evenly.  The sanitization line is the ideal solution for bio-security, fighting MRSA, E. Coli, salmonella, swine flu, C. Diff, H1N1, and various other bacteria and viruses.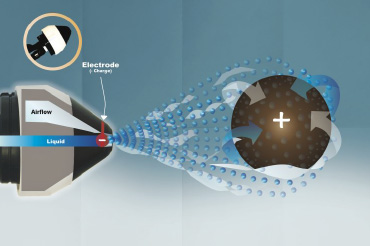 Cleaners & Electrostatic Disinfectant Solutions