---
The past two years of uncertainty are behind us. We're finally beginning to see the light at the end of the tunnel. We can get back into the classroom or office through vaccine distribution, frequent testing, implementing better social practices concerning hygiene, and having more treatments readily available. It appears as if we're finally rounding 3rd base and heading to home plate with COVID-19 (the variants are another story). But as we sprint to the finish, aiming to replenish a sense of "normal" within our community, we need to pause for a moment and make sure we're not missing anything…I have a funny feeling that we are.
Available COVID-19 Tests and Tracking
Let's look at some of the more "popular" test kits, their procedures for tracking, and see if we can't find a loophole within the process of which a microbe could take advantage.
After reviewing a couple of the more popular testing options out there, did you happen to notice anything wrong with the above procedure descriptions? What do they all have in common? To the untrained eye, this all looks very acceptable and straightforward. To those who work in infectious disease control, we see a massive loophole that more advantageous and aggressive bacteria will exploit
The Transmission Paradox
Testing, testing, testing. Philosophically speaking, testing + tracking is a proactive approach to combatting viral transmission and understanding pathways while accruing complex data on how viruses spread. However, in the great race against COVID, we've let mixed messaging and abused/politicized data get in the way of logic, and this is where the transmission paradox reveals itself.
All the above COVID-19 tests require a mobile device, app, or electronic device of some sort to review the results. Mobile devices are a MAJOR loophole that savvy, adaptable viruses like COVID-19 can utilize. Hand hygiene and avoiding touching the "T-Zone" are two of the most critical components of infection prevention, and we know that. When administering these tests, you must touch your face; there's no way around it. So, hand cleanliness needs to be at the forefront of our minds when designing testing stations for work and at home. But if these tests require us to utilize our devices to track the results, we need to consider the devices a tertiary threat of cross-contamination.
According to an article on The Conversation, "currently mobile phones are largely neglected from a biosecurity perspective, but they are likely to assist the spread of viruses such as influenza and SARS-CoV-2, the novel coronavirus responsible for the COVID-19 pandemic."
It's a fact that you touch your face to take these tests, and if you're infected, you've now passed the infection to your hands. From there, everything you feel runs the risk of receiving a piece of that pesky COVID infection, especially your phone. Now that you've grabbed your phone to review the test results, you've just passed that virus back to the device. Say you hand your phone to show someone your results; they've now just had an encounter with the virus. You see where this is going.
For the Examiners
In the medical community, there's a myriad of devices/tools used when a patient walks through the doors of the exam room. Even when conducting a simple COVID-19 test, doctors will make baseline observations of the subject's health using a few devices. For example, if you were to have your heart rate monitored, a pulse oximeter device would be placed on the tip of your middle finger to gather a reading. What happens to this device after it's touched the hand of the subject? Well, in most cases, it simply goes back into the pocket of whoever is taking observations. From there, what happens? Is it disinfected? Or does it go onto the finger of the next patient who has dropped in for testing?
Another critical piece to focus on is masks and face shields. Are the examiners in fitted N-95 masks plus face shields? If we are regularly testing, the examiners need to be intelligent about being exposed to pathogens. Utilizing surgical masks while administering testing is not ideal as a COVID-19 positive patient could easily transmit the virus to the tester. Then we've let the cat out of the bag. Face shields and N-95 masks need to be normalized at testing centers to protect those administering the tests as they contact many potentially infected patients.
These devices are at the center of the transmission paradox. In the name of proactive testing and tracking, we've overlooked and incorporated mobile devices into these tests without considering them a route to infection. We've also left out critical medical devices used by doctors every day on multiple patients without any disinfection. We've forgotten that properly fitted N-95 masks and face shields working together afford the most protection for those in contact with many patients. We can quickly disinfect these devices with modern solutions, but if we don't disinfect them, it will afford deadly bacteria many routes to transmit rapidly.
We're walking in circles a bit, but it's okay, everyones' plates were full trying to forge the path forward, and sometimes things fall off. Luckily, companies like us at Safety Net take the time to audit these procedures, look for vulnerabilities, and provide solutions.
Break the Endless Loop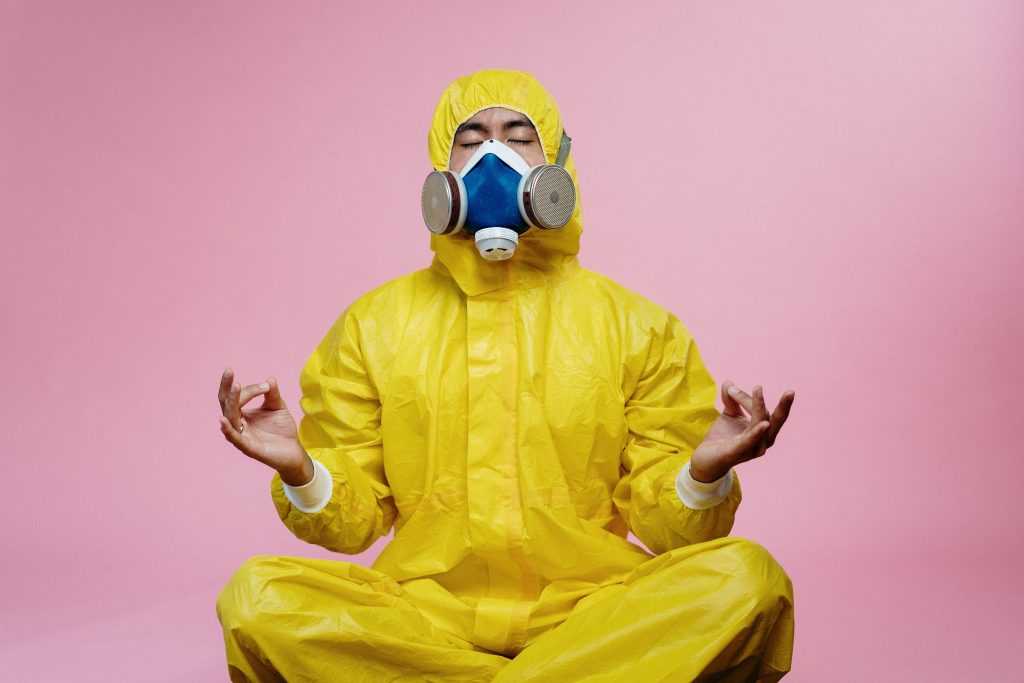 Nobody likes running in circles except track athletes. So, what can we do to improve these existing procedures without going back to square one? Well, there are a few options for us to pursue here.
First and foremost, education. Education on pathways of transmission, in addition to surface transmission facts, is detrimental to improving our testing procedures and safeguarding our communities. Distributing inappropriate information throughout the world has created a foggy view of how these microbes survive outside of the body. We need to stand up and speak out against inaccurate practices that mislead the public on infection prevention. More importantly, we need to speak out about antimicrobial resistance and how lackadaisical infection control can lead to "superbugs."
Secondly, we can implement better technologies to aid and abed us in our testing efforts. Mobile device disinfection is where UV products take the cake. UV lighting can eradicate pathogens and other deadly bacteria from surfaces and devices with little to no waste and high efficacy. Devices like the PhoneSoap Go, ExpressPro, UV Box, and UV Cube had considered these transmission pathways long before COVID-19 arrived on the scene. They were targeting more dangerous and deadly bacteria like MRSA, Staphylococcus, and C. diff but are now being tested (with success) against viruses like COVID-19.
When we place our mobile devices, keys, badges, pulse oximeters, N-95s, and face shields into these technologies, the UV light will bombard the objects from multiple angles. Because of tactically placed bulbs and shelves, irradiating UV light covers the devices for extended periods with no shadowing effects. UV boxes guarantee the most effective disinfection while being safe for your electronics.
Placing a UV box or ExpressPro next to the station you are testing employees will create an additional layer of biosecurity while reducing the waste of spray and wipe and disinfectant wipe techniques. Purchasing a PhoneSoapGo for your personal use is also recommended so you can disinfect at your leisure, constantly staying on top of hand hygiene and device hygiene.
Third, we can utilize better hand sanitizers at the testing stations that make it more appealing for those getting tested to sanitize their hands before and after testing. Solutions like mPulse hand sanitizer are great for testing stations because it's alcohol-free and smooth on the skin. Plus, the residual component of mPulse is incredible and maintains effectiveness even through additional hand-washing.
So, how do we get off the never-ending staircase and break the endless loop of the transmission paradox in these testing stations? The answer isn't superficial; it's rather complicated. We need to audit all procedures, offer continuous education/training, and make sure that solutions being utilized in public spaces are efficacious and intelligently deployed. Not only will we be able to test and track the virus through testing stations, but during that discovery process, we can actively stop the virus from entering your domain further through contaminated devices. Through studying and understanding this virus and how it moves, we can create better policies that disrupt the transmission paradox.
Set up a free risk assessment and audit of your current infection prevention practices with Safety Net today. Our sole directive is to educate and promote a safer, healthier, sustainable future.
About the Author
Robert Hasselfeld is SEO manager for Safety Net.